Dissertation Vs Thesis: The Differences That Matter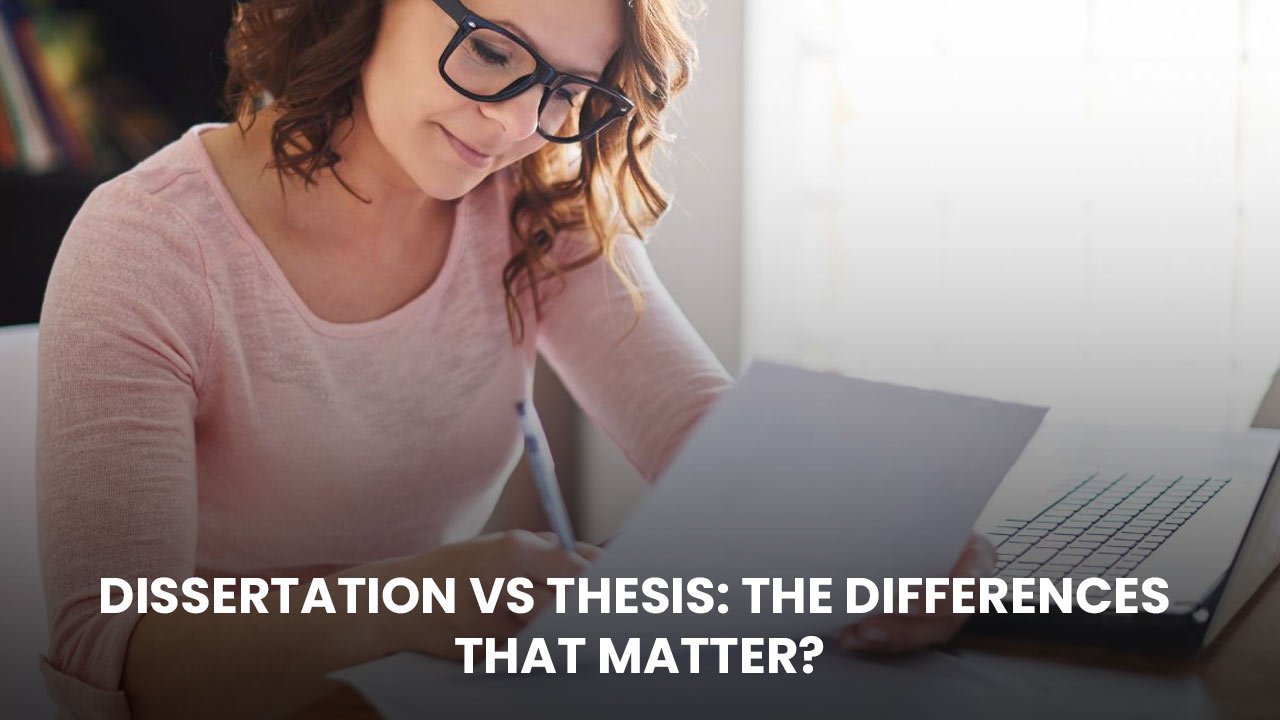 Introduction
At the end of the academic session, every graduate students have many assigned different tasks like coursework, thesis, dissertation essay and so on. Amongst all this, the biggest & problematic project to finish could be the dissertation & thesis. It usually seems that the terminology dissertation & thesis are interchangeable, and often it confuses most individuals. There are some major differences between both this term but that difference is important to know for students' educational journey. Both coursework is quite similar in structure & formatting because they include every section like the introduction, literature review, body text, methodology & conclusion. In this article, we will give you a brief idea to understand the differences properly where we discuss the similarities also. There is a clear understanding & fluency of the subject one studies.
What is a Dissertation?
When students enter their academic writing to pursue a PhD, they might learn a lot that how to achieve their own research. So at the end session, they need to create a Dissertation. A dissertation is a lengthy academic writing that consists of original research on a trending interesting topic. So if you are a doctoral student you need to choose a powerful topic to start your dissertation and keep structuring it within your field of study.
A dissertation might be used to establish an earlier theory & research in a new direction. It is a large research work that should be completed before college end to achieve the top grades that define an individual career.
Usually, a dissertation begins with a dissertation proposal, that needs approval from the supervisor or examiner. Once the approval gets passed now they need to complete the research and write up the methodology section, evaluation, literature review & finally the conclusion from the research. Every student needs to write a dissertation whether they are a graduate, postgraduate, PhD or doctoral student. For graduates, the word length should be 5000-6000 and for postgraduates, it should be 10,000 to 15,000.
What is a thesis?
Before you get to know the difference it is really important to deeply understand what is the definition of thesis & dissertation.
A thesis is an academic paperwork that consists of an in-depth review of a present research paper in a specific field of knowledge. The existing research can be used to support the proposed argument. A thesis permits students to prove their skills & creativity in the field that they have chosen during academic writing. A thesis is mostly written by post-graduates because it requires deep knowledge and amazing writing skills. This lengthy research paper has always been completed at the end of my master's degree.
Know the major differences between a thesis & dissertation
Basic Differences: As we have discussed the thesis must be written by postgraduates whereas the dissertation is a project used to achieve a higher or doctoral study process. Some points to know the difference properly.
A thesis is a compiled research work that decides whatever the students have learnt throughout the entire program whereas dissertation is the part of doctoral research, that overviews information, knowledge, practices & scopes towards your field of interest.
The thesis demonstrates the information of the course work whereas the dissertation defines the entire new process, in the field you are interested in and you can create your own.
A thesis is presented in paper form whereas the dissertation is like a prepared book or a journal.
Structural Differences: When we talk about structure, it is always important to follow proper formatting & structure of the thesis and dissertation. Also in terms of the collection of data, word count, and formatting they are different. Both this terminology created according to the previous research where the obtained information will support the fact or not. In the thesis, the conclusion part concludes the open information so that you can elaborate & prove it whereas, in the dissertation, the conclusion part depends on the findings and whether the claim is right or wrong. Home of dissertations is the best dissertation writing provider where a team of professional writers & researchers are waiting for you to help you with your assignment. The best part about this service is they quickly respond to you with your query and resolve the query you are looking for.
Conclusion
Definitely, thesis & dissertation writing is a lengthy & difficult task for an academic student's life. Many people consider the difference between both these to be plenty but this is not, so we present a clear picture in front of you to make you understand the major differences. It is essential to check whether the research piece considers original research or expects you to build upon existing research. I hope this is a perfect article for academic students who are going to create a dissertation or thesis.