Some Questions You Should Know the Answers to when Writing a Senior Dissertation
Introduction
Writing a senior dissertation can be one of the most challenging and daunting tasks you'll ever undertake. It's also an exciting opportunity to explore a subject you're passionate about and develop your research skills. Before starting your project, there are several important questions you should answer first so that you can create an effective plan for completing your dissertation. From understanding the context of your topic to outlining your research methods, this article will provide a few key questions to ask yourself when writing a senior dissertation.
What is a dissertation and what is a dissertation statement?
The dissertation is a research paper that summarises the student's findings and argues a point. The dissertation statement is the student's interpretation of their data and argument.
What is the structure of the dissertation?
Dissertation writing can be an intimidating task; the sheer number of words and research that needs to be done can make the idea seem downright impossible. But, understanding how to structure your dissertation could be the key to making it seem more manageable. In this article, we will discuss the structure of the dissertation and what you should keep in mind when writing one.
Title page
Abstract
Table of contents
Introduction
Literature review
Methodology
Results
Discussion
Conclusion
How long it needs to be?
A dissertation is a significant piece of writing, usually ranging in length from 200 to 500 pages. In some cases, dissertations are even longer. The length of a dissertation varies depending on the field and the specific requirements of the program you are enrolled in. However, there are some general guidelines that can help you determine how long your dissertation should be. In most cases, a dissertation should be long enough to thoroughly explore the topic at hand and contribute new knowledge to the field. A good rule of thumb is to aim for approximately 40,000 – 50,000 words in length. This gives you enough space to cover all aspects of your topic and includes a literature review, methodology section, results section, and discussion/conclusion section. Of course, always follow the specific requirements set forth by your supervisor or department when it comes to length. They may have different word counts in mind or may require a different structure for your dissertation altogether.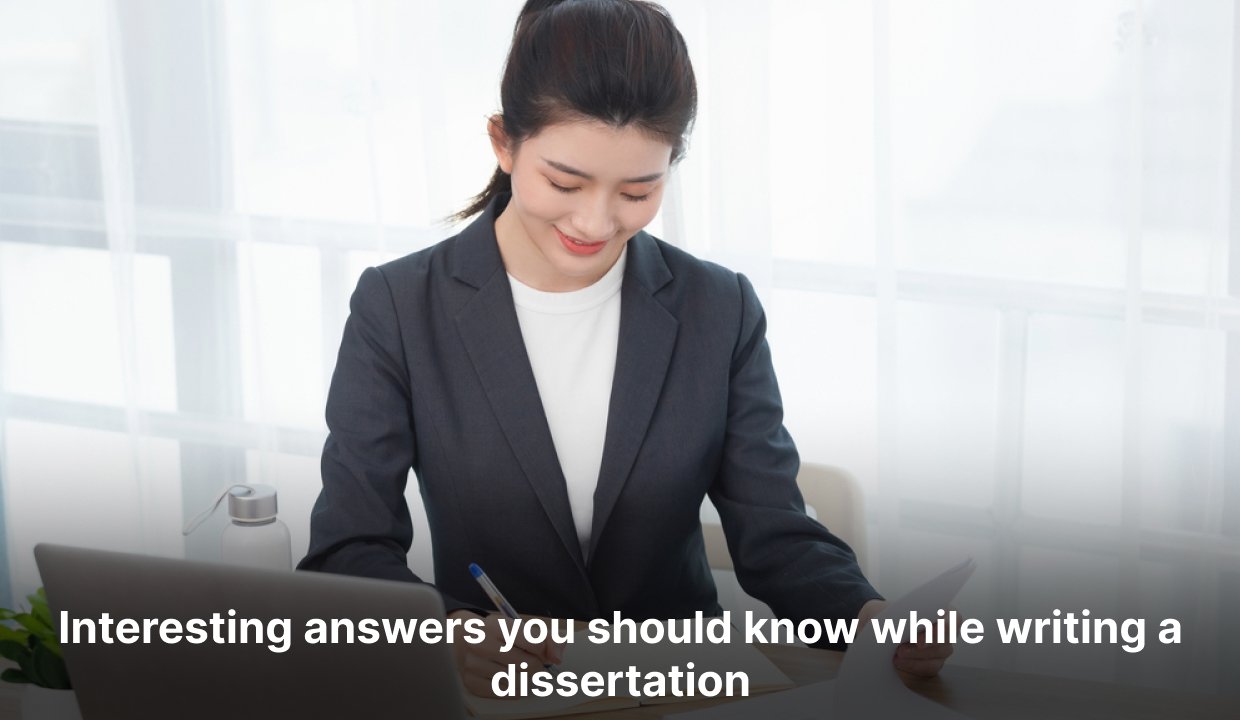 Interesting answers you should know while writing a dissertation
When writing a dissertation, there are a few interesting answers you should know in order to make the process go more smoothly. Here are three questions you should definitely know the answer to before starting your project:
What is the difference between a research question and a thesis statement?

A research question is a particular query that you need to answer with the help of your research. A thesis statement, on the other hand, is a broader claim or argument that your paper will be defending. Knowing the difference between these two important elements will help you focus your paper and keep your argument clear.

What are the points that should consider for choosing a dissertation topic?

Your topic should be something that interests you and that you feel passionate about. It should also be something that is feasible to research within the time frame you have available. Once you have selected a few potential topics, it is important to consult with your advisor to make sure it is appropriate for a senior dissertation.

How do I know if my research is original?

It can be difficult to determine whether or not your research is truly original. However, there are some steps you can take to ensure that your work makes a valuable contribution to the field. First, consult with experts in your field to get their opinion on your topic. Use citation software like EndNote or Zotero to track down similar papers and see how yours differs.
Conclusion
Writing a senior dissertation can be an extremely daunting process, but it doesn't have to be. By familiarising yourself with the questions that should inform your research and writing processes, you can ensure you are on track for success. Knowing how to narrow down your topic, develop a plan of action, identify possible sources of evidence, and evaluate them critically is essential knowledge for any senior dissertation writer! With thoughtful consideration of these points during the planning stages, you will be well-prepared and ready to confidently tackle your thesis or project.