Basic language rules to Help you Ace Academic Writing
Contents
Introduction
During the early days of your academic career, you might feel pressured due to academic writing. You can easily prepare your dissertation or thesis writing when you know the right rules to scribe your paperwork. Basically, the first step to starting any writing is to learn grammar. Grammar for academic writing is a special subset of the English language. There could be various grammatical conventions you will see in all the academic written papers that you also need to follow while writing your paper. So this article is basically for beginners who want to ace their academic writing. Here we will suggest using some conventions and rules to make your academic writing more attractive and impactful.
Some basic linguistic rules to make your academic writing perfect!
Language rules for academic writing
Before we start, let's shed some light on the writing points that make academic writing worthy. Academic writing is the arrangement you use when you are writing for scholarly purposes. It is importantly a way of writing that follows definite rules and regulations concerning the use of language, tone, writing style, writing structure, and so on. It has fixed goals, clear structure, focused concepts, and logical argumentations. Here are some characteristics of academic writing that will help you understand it:
Make use of a formal tone & approach.
It should be well structured and formatted.
Collect information on the topics from different platforms.
It should be logical to attract the audience.
Hence, there is nothing to fear, because it is not as difficult to create as it seems. There are only some important rules that need to follow to make your readers understandable. With practice, academic writing is an easy art to master, when you follow the correct rules. Here you can formulate some easy ways to make a better writing schedule for yourself.
Language rules for formatting sentences
Structuring sentences is not as complicated as it seems, there is no hard and fast rule to complete your writing. You want your readers to rigorously understand what you would like to deliver, not have them solve word complexity. So, you need to mix in different lengths of sentences to make sure that your piece is stabilised. Here are the points that you should avoid:
Run-on sentences
Unusually long sentences
Misplaced modifiers
Fragmenting sentences
Dangling modifiers
Language rules for choosing words
When we are talking about academic writing, you need to make sure what you are writing and is your writing delivers any deep meaning or not. There are different linguistic rules that students and professionals mix up that are mixing pronouns, using wrong prepositions, or most usual(using the words wrongly with the wrong intention.
Punctuation
Punctuation marks are vital grammar rules that people tend to overlook the most. There are many common misinterpretations or misplacement of punctuation marks. However, you should check those silly mistakes carefully. After all, misplacement of punctuation marks can totally change the meaning of your sentence. Therefore, it is very important to understand the purpose of a punctuation mark before you use it and where it needs to be placed.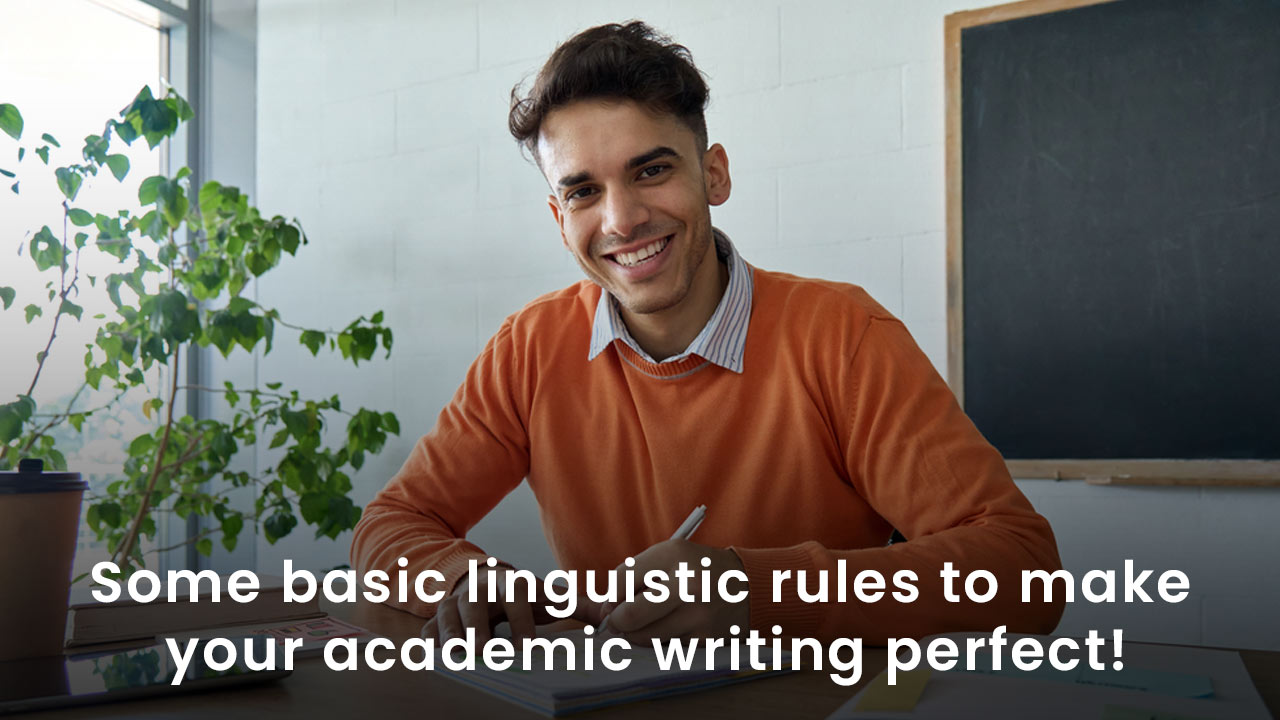 Capitalisation & verbs
For academic assignment help, the use of capitalisation is mostly for transforming proper nouns. Therefore, make sure that you do not capitalise as and when you see fit but instead focus on the rule mentioned above. Also, make sure you are consistent with how you capitalise your titles & headings. Also, you need to pay attention to the verbs used in your sentences.
Generalisation
Describing content
Explaining details that have ongoing relevancy.
Reporting finished efforts
Stating facts
Conclusion
This blog will help you with the basic rules of language. It will be beneficial for you, especially for assignments. Your remembering power improves with practice. If you can't finish your assignment, you can take the help of an expert, senior and others. You can read more blogs on our portal to learn about the methods of writing and perfecting assignments.