A Critical Evaluation Essay Writing tips - A Definite Guide!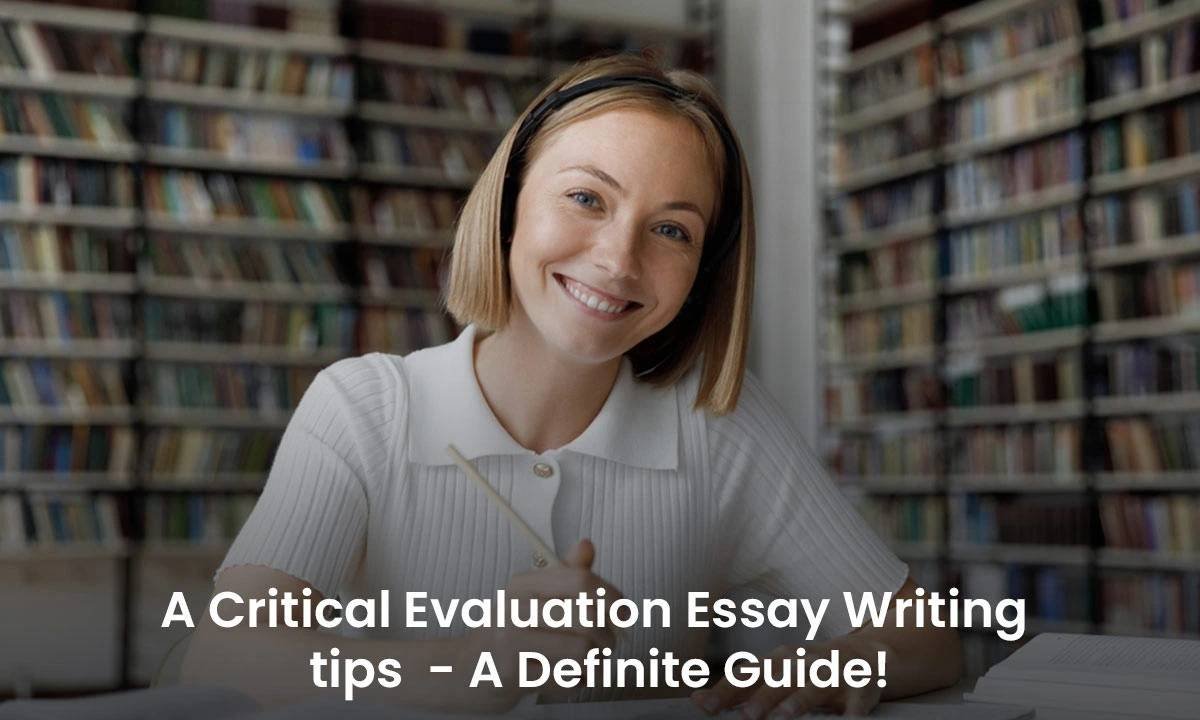 Contents
Introduction
A critical essay is a type of project in which you evaluate a topic. Critical evaluation is one of the most important tasks that you have learnt during your graduate and postgraduate program. Writing a critical essay requires a lot of research and skills, as it needs a critical evaluation of an argument. Topics can be from analysing a recent or historical event, books, films, magazines, complicated social and political issues and many more. It is a form of observation from subjective matter and elements. The main motive of a critical analysis essay is to give brief information about the topic and to explain its purpose and meaning. This critical analysis is very subjective so you need to avoid very common mistakes like your tone should be clear, formal or concise. It is basically your own opinion on your field of interest but it should be supported by the audience otherwise it will impact negatively on your paperwork. Never base your entire essay on the reference of another writer because it increases the chances of plagiarism and also low grades in academics.
Firstly focus on the analysis of the subject rather than the description of a topic. Make sure you follow a good structure and have sufficient evidence, and double-check the logical sequence of your thesis writing to ensure that you have made great research for your readers. There may be two terminology descriptive essays and a critical analysis essay. A descriptive essay simply states what the subject is and when and how it will happen whereas a critical analysis explains the importance of that subject and your personal point of view on the topic. It requires meticulous planning and hours of reading and research. Here is a stepwise guide to help students write a detailed critical evaluation essay.
Choose a perfect niche
The first thing is to choose a topic related to your interest. Usually, when you have been assigned a thesis work by your university so they have a list of topics from which you have to choose according to your credibility. Some effective steps to choose good relevant and easy topics are because you have deadlines too so you need to complete it asap.
Critical analysis and scope for research.
Time effective & easy.
Should be engaging and interesting
Clear,concise & short.
Referencing previous research paper:
No research paper can be returned to privacy, you can easily read a work that has already been done in your field of study. You need to update about your field as the world is growing every day. Exploring the existing research also reduces the chances of plagiarised content. If you have a new idea, chances are someone must have already thought of it and written a paper on it. You can take an idea from their research and applied it to your work.
Gather relevant data
Data collection is a vital step in any piece of essay writing irrespective of your particular field of study. The main parts of data collection are contemporary studies, existing research, experiments and explorations. Preparing a working bibliography helps more to the students as it tracks primary and secondary sources referred to in your paperwork.
Highlight the informative points
Exploring your particular topic is an ongoing process. Hence, everything that you have read from another textbook could be written in your research work, you need to choose some great words and relevant information as it should be short and sweet. A critical evaluation easily carries a word length of 1500-2000 words only so before writing your essay make sure you have chosen some great words and advanced English.
Structuring the Essay
Now, you have placed all the facts that are required before you begin your write up. Now, once you are clear about the type of essay then you can easily write it effectively without a lot of effort. When you write for your academics then the words should be more polished and formal. Academic writing is a way to show your skills directly to the readers and audiences. It is less about wanting to appear intellectual and more about discussing your work in a way that is more engaging and interesting. A good structure includes an introduction section, a well-paragraphed body and the conclusion. Structuring is one of the most important sections of your thesis as it details all the required information.
Proofreading like a pro
Once you complete your writing, you might think that you are done with your research but this is not what it is. The main work occurs when you revisit your work to proofread and edit your essay. Proofreading is not an easy job as it needs a mind full of knowledge about a particular topic. Hence, when you are not ready to proofread your content then you can take help from an online service and from your supervisor. Home of dissertations is a one-way solution for every individual who wants to achieve success in writing as we provide essay writing, dissertation help, and thesis writing services with the help of our skilled professionals. Not only this we also offer proofreading, editing and data analysing services with our high-quality tools.
Conclusion
Dissertation writing can be painful for students yet crucial for their academic careers. You get tasks according to your interest and you have to submit them to get a degree. You should submit tasks before the deadline because time management becomes difficult after the delay. Taking time off can be super beneficial for you as you get the energy to handle tough situations, improve your technique and generate a new idea. You will get the best grades and pass the dissertation with the help of our experts.